The most effective yet simple process to refine gold from metal alloys, is by means of Acqua Regia solution, a mixture of appropriately calibrated hydrochloric and nitric acid, which has been widely employed in diverse sectors (goldsmith, mining, WEEE, galvanic, etc.) as of today.

Our machines are made as a monoblock for greater compactness: the vapour reduction tower is on the back, while the frontal working area allows easy accessible to all its components, while maintaining high safety standards both for the operator and the environment.

The standard systems yield from 1Kg, up to 25Kg, but modular systems equipped with reactors can yield up to 300Kg per working shift. All our systems are guaranteed with a warranty and immediate technical assistance. Our machinery can also be designed specifically for the treatment and purification of metal alloys containing platinum, palladium, rhodium, ruthenium and other metals. The resulting final purity of the target metals is always equal to or greater than 99.95%.
---
B.T.T. Italy has been building special systems for 40 years aimed at performing this process in a speedy and efficient focusing mainly in the separation of gold and silver.

Our equipment guarantees obtaining a pure gold powder with a title equal to or greater than 99.99% guaranteed in just single step.
---
CHEMICAL GOLD REFINING AFF. CHAu. 5kg
• Monobloc structure in pp with rear scrubber
• 20 L glass reactor with heating system
• Spent acid storage tank
• Double buchner filter
• Au precipitation reactor with mixer
• Power 4,5 Kw at 40 V+N
• Overall dimensions 1300x1200x2400 mm
CHEMICAL GOLD REFINING AFF. CHAu. 15+15kg
• Monobloc structure in pp with rear scrubber
• Two 50 L glass reactors with heating system
• Spent acid storage tank
• Double buchner filter
• Au precipitation reactor with mixer
• Power 14 Kw at 400 V+N
• Overall dimensions 1800x3500x2800 mm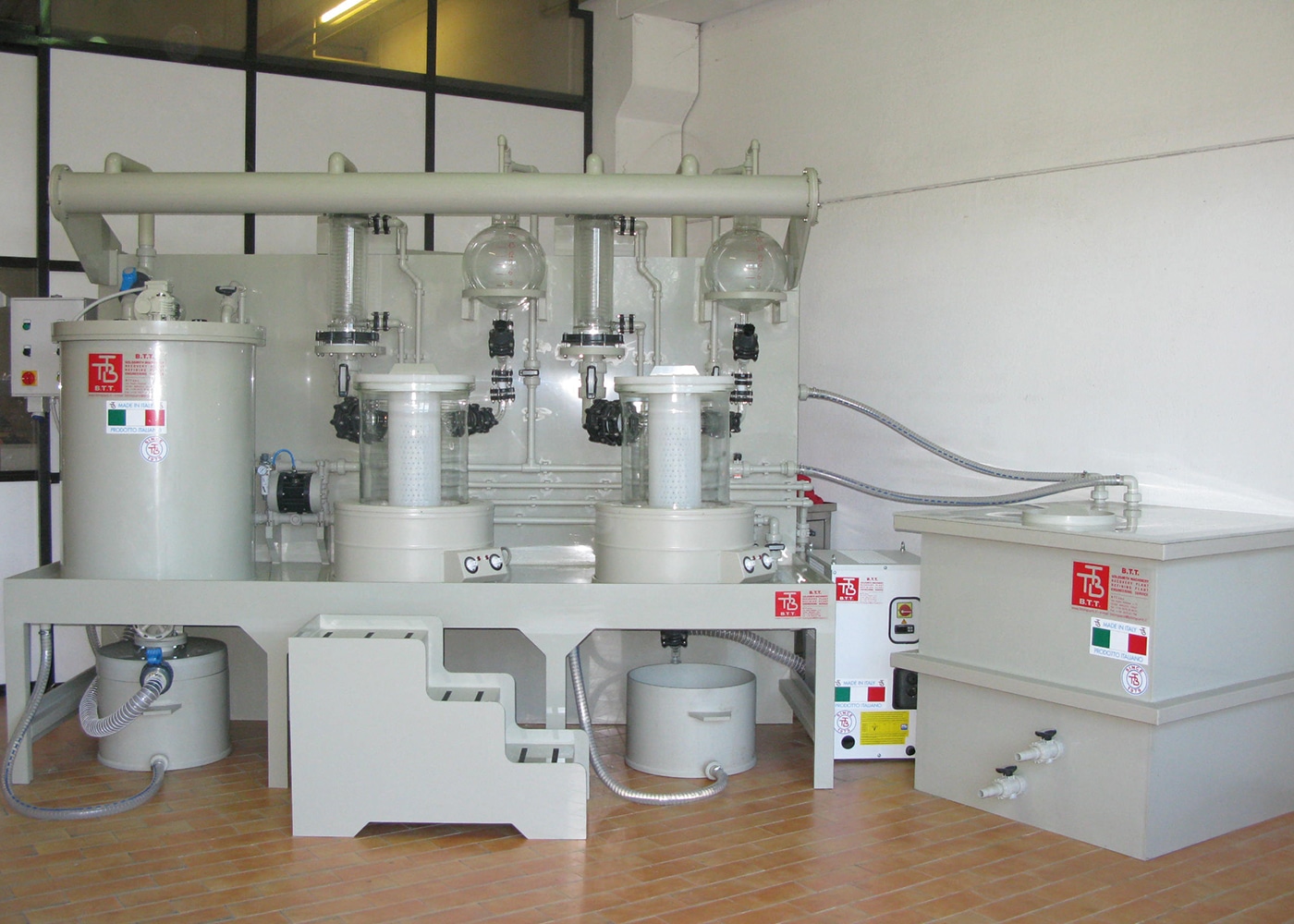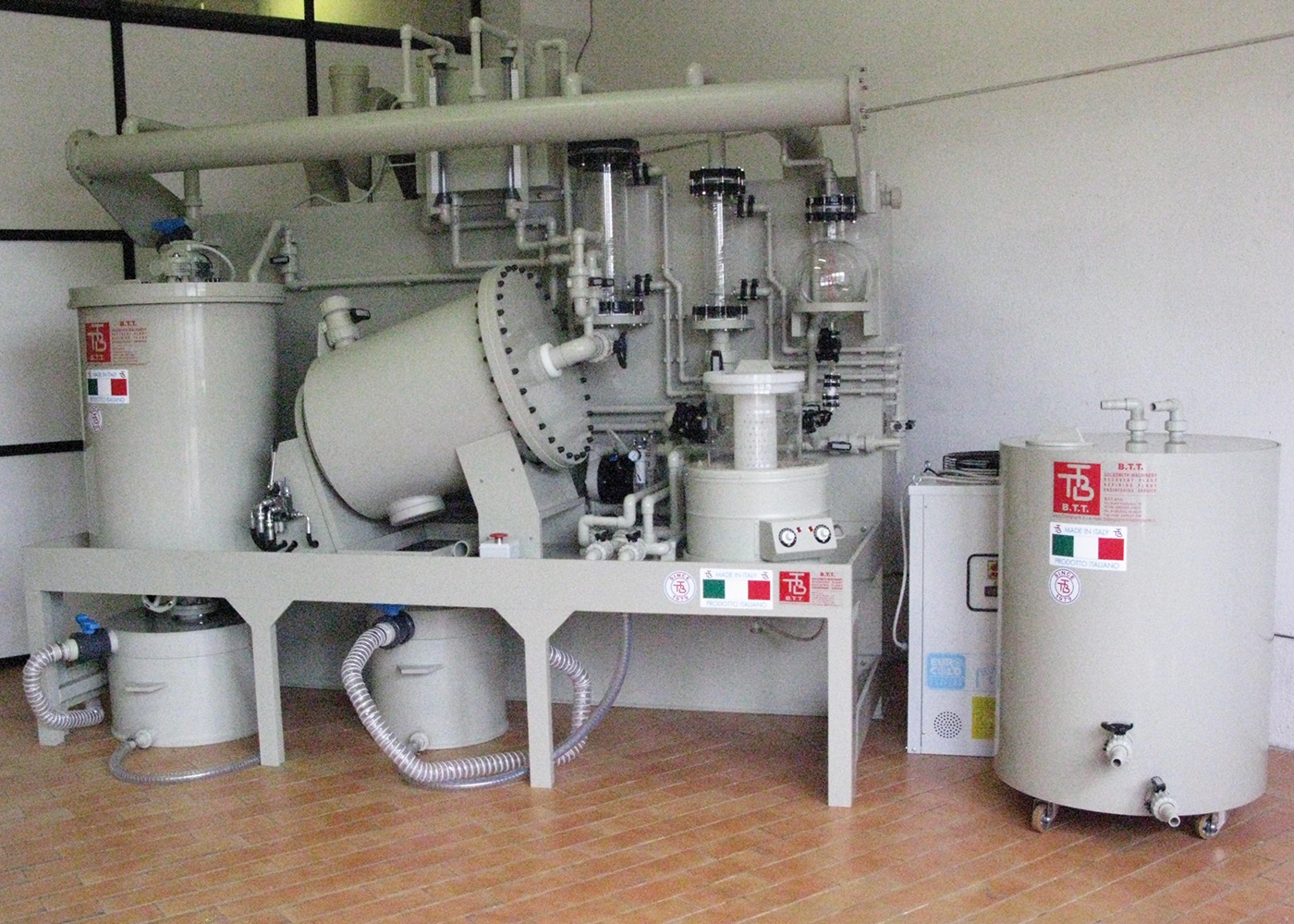 CHEMICAL GOLD REFINING AFF. CHAu. 20+5kg
• Monobloc structure in pp with rear scrubber
• One 100L rotating reactor with hydraulic movement
• One 20 L glass reactor with heating system
• Spent acid storage tank
• Power 10 Kw at 400 V+N
• Double buchner filter
• Au precipitation reactor with mixer
• Overall dimensions 3500x1600x2700
CHEMICAL GOLD REFINING AFF. CHAu. 5+5kg
• Monobloc structure in pp with rear scrubber
• Two 20 L glass reactors with heating system
• Spent acid storage tank
• Double buchner filter
• Au precipitation reactor with mixer
• Power 7 Kw at 400 V+N
• Overall dimensions 1300x2000x2400 mm